A Complete Guide to Aluminium Bifold Doors
Introduction
At Aluframes Direct, we specialise in installing high quality aluminium bifold doors. But what are aluminium bifold doors? What makes them so sought after, and how can they improve a home? We answer these questions and more in this complete guide. Learn about what makes our aluminium bifold doors special below, or get a quote now via our free online quoting engine. It can get you a no obligation accurate price in just a few clicks.
Aluminium VS uPVC
There are many reasons to choose aluminium bifold doors over uPVC. First off, aluminium is a highly durable yet lightweight material that can provide smooth performance without any risk of warping, cracking, or swelling. Additionally, aluminium bifold doors can be much more secure, as aluminium is a rigid metal that can withstand sudden blows without giving way to unwanted intruders.
While there is the belief that uPVC bifold doors offer more variety in terms of colour and other customisation options, in the modern day, this isn't entirely true. Our aluminium bifold doors can be customised with a range of sizes, number of panels, as well as colours to suit almost any type of property.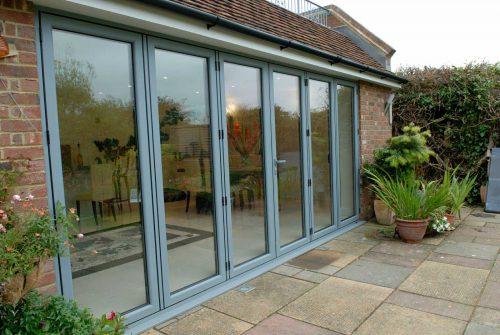 Thermal Efficiency
Our aluminium bifold doors use highly efficient double glazing as standard. This means that your home can remain warm and comfortable while benefiting from a large entrance. Double glazing retains heat by trapping it between the panes, letting you rely less on your gas or electricity to keep your home cosy. 
Another benefit of increasing your home's energy efficiency by upgrading your garden or patio entrance with aluminium bifold doors is the fact that they can potentially help reduce energy consumption. By using less energy year after year, you could save on your energy bills while also improving your home's carbon footprint.
In addition to our bespoke double glazing, the aluminium profile also incorporates hidden polyamide thermal breaks. These thermal breaks allow the aluminium bifold doors to maximise their energy efficiency even further by increasing how much heat the aluminium frames themselves can store.
The thermal efficiency of aluminium bifold doors can vary based on the size of the doors, as well as the number of door panels. However, our 3 panel bifold doors are capable of reaching typical U-values of 1.5 W/m2K. We offer a choice of glazing thicknesses so that you can get doors that provide the right amount of insulation for your home.
Security Features
Aluminium bifold doors can be an excellent choice for homeowners looking for impressive security and safety features. Aluminium is, by its nature, a strong and resistant material, which makes it the perfect material for modern doors. Aluminium bifold doors are also designed intelligently to open via a concertina principle. This means that it's challenging to slam them open or shut, and the folding design makes it easy to get out of the way to create a clear entrance for high foot traffic.
For an even clearer path, we can offer our aluminium bifold doors with a low threshold to make it easier for those with wheelchairs or pushchairs to use the entrance that they create. The steel rollers and liners ensure that even with the slim and sleek design, they keep their shape even after constant use. 
We internally bead all our aluminium bifold doors for increased security, and the master door can come with 3 point locks.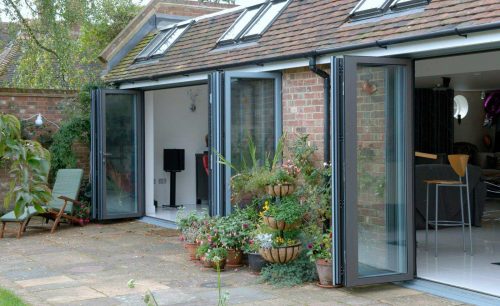 Customisation Options
At Aluframes Direct, we can install aluminium bifold doors that can be up to 1000mm wide, with a max height of up to 2400mm. Our aluminium bifold doors can come in a wide variety of configurations with varying numbers of panes.
We also have dual colour options available for our aluminium bifold doors, allowing you to get a unique look on the internal and external sides of your home. There are also square or bevelled beads to suit your preference. Plus, we can provide your choice of square or curved sashes for the perfect finishing touch.
By upgrading your home's patio, garden, or deck entrance with new aluminium bifold doors, you can get a seamless aesthetic across your whole home, with matching windows and doors that bring the whole look together.
Slim Sightlines
A significant benefit of choosing aluminium bifold doors over timber bifold doors or uPVC is the incredibly slim sightlines that can be achieved with aluminium. While other materials could reach the same level of sleek design, they tend to compromise the security and durability of the door profile. With these bifold doors, that isn't the case. 
A slimmer profile allows for extra space for the double glazing, leading to a much more energy efficient set of doors. Not to mention, larger panes of glass can flood your home with swathes of natural light, letting you rely less on electricity during the day.
By installing a large enough set of aluminium bifold doors, you can open up an entire wall within a room, letting you enjoy gorgeous views and fresh air. When the doors are open, the thinner frames come even more into play, as they can collapse much closer together, letting there be less wasted space.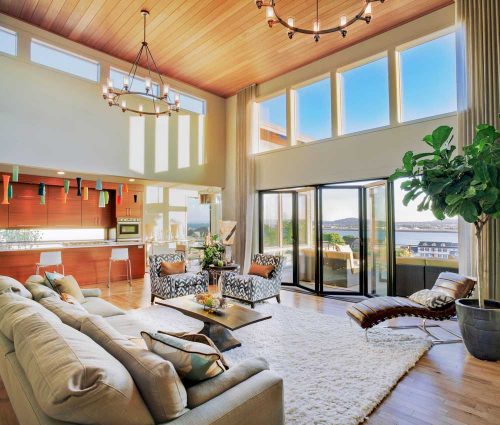 Low Maintenance
Compared to older materials, aluminium bifold doors are very low maintenance. Unlike timber doors, metal doors don't ever need to be sanded, varnished, or repainted. They can also last much longer without any risk of rotting or water damage because aluminium doesn't rust. Thanks to this longevity and rust resistance, all you need to do to keep your aluminium bifold doors clean and fresh is soap, water, and a cloth or clean sponge.
Aluminium Bifold Door Prices & Cost Guide
Many things can affect the price of aluminium bifold doors, from size to number of sashes, colour, delivery, installation, and more. A bigger set of doors will require more material and are also heavier and, therefore, more challenging to transport or install. 
To get an accurate and competitive price for aluminium bifold doors, use our free online quoting engine. We tailor our quotes to each individual specification so that you can get the right set of doors to fit your home. For more information, call us on 0800 689 1289, or fill out our online contact form, and we'll get back to your enquiry with expert advice.
Categories: Updates